How We Got Started
'As a young person I dreamed of being a footballer. I thought I was good enough to make it – it's a shame the manager didn't! I just couldn't get a game and got fed-up of standing on the touch-line in the cold and snow,' reminisces Peter. 'My mother was a great inspiration to me – she taught me to value what I had and the importance of looking after it. One day she asked me to take my brother's shoes to a local cobbler to be repaired. I could never have imagined that this simple task would change the direction of my life. The shoemaker could not get his giant hands into the small boots, so I asked if I could help. He was impressed with my attitude and interest and gave me a job; and so began my life-long career in the shoemaking and repair world.'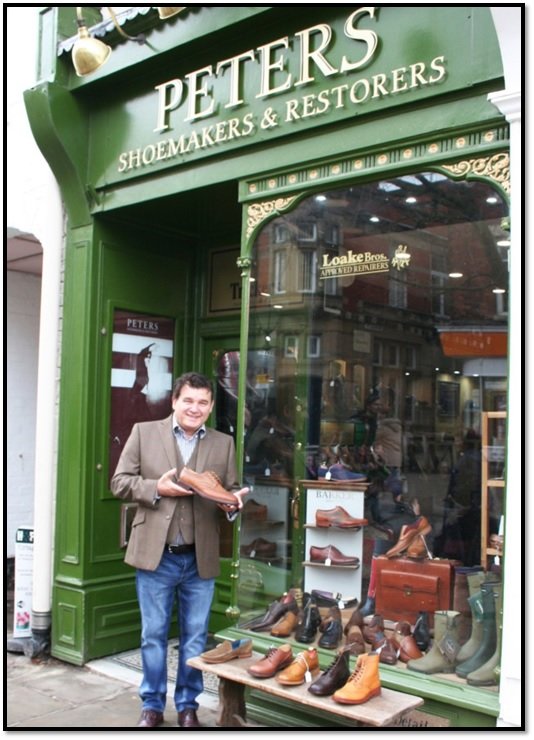 Incredibly, Peter was only 12 years old when he accepted the part-time job offer from the Hungarian-born master shoemaker in the rural village of Dinnington in South Yorkshire, located close to the Derbyshire and Nottinghamshire county border. Peter's entry into shoemaking followed the traditional time-honoured method of passing down skills from the craftsman to the apprentice – and he quickly expanded his knowledge of the trade. 'I loved being in the shoemaker's workshop; the smell of glue, the leather and even the paraffin heaters all appealed to me,' remembers Peter. 'I felt at home here and gained many skills in repairing and restoring shoes.
By the age of 18, Peter had opened his first shop in a garage at the back of a family member's house in Dinnington. 'This was a really exciting time, with opportunities opening up very quickly. I soon moved to another shop in the centre of Sheffield and by my early twenties I had concessions in the House of Fraser.'
In 1981 Peter opened his first stand-alone shop in Low Pavement in the heart of Chesterfield. During the 1980s he scooped a number of prestigious awards for his repair and leatherwork. This success encouraged him to expand his business and in 1987 he took a brave decision to sell shoes directly to the public from his existing store. 'A number of closures of other local shops selling shoes in Chesterfield led me to believe there was a gap that could be filled with a one-stop-shop selling shoes as well as repairing them – especially high-quality, design-led products.' To research his plans further he made a pilgrimage to Northampton – the place he regards as the spiritual heart of British shoemaking industry – and he managed to secure the support of a number of leading brands such as Loake and Church's. By the time he was 38, he was voted as businessman of the year in the 1998 North Derbyshire Chamber of Commerce annual awards.
Nowadays it is difficult to imagine Peter's shoemaking business without a shoe-selling retail element. 'Selling high-quality brands in-store has been at the centre of our business for almost 30 years now – people love the brands we sell and we love providing them,' reflects Peter. Good quality customer service combined with a warm welcome in a beautifully presented shop is crucial to the success of his business model.
'Designing and making bespoke shoes for private clients is the most exciting part of my business, but it is also the most challenging.'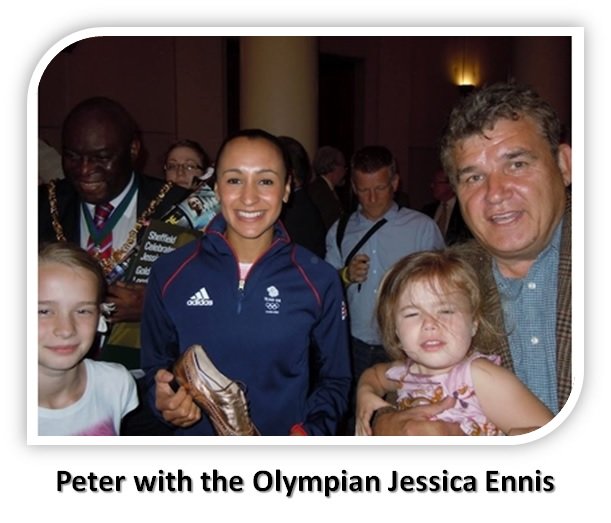 It is clear that Peter enjoys making a contribution to the local communities based near his businesses. He presented the Olympian Jessica Ennis with a pair of golden handmade shoes to mark her achievements in London 2012.
Peter also made golden shoes for the Nottinghamshire-based Paralympic swimmer Ollie Hynd, which he wore when he attended Buckingham Palace to receive an award from the Queen.